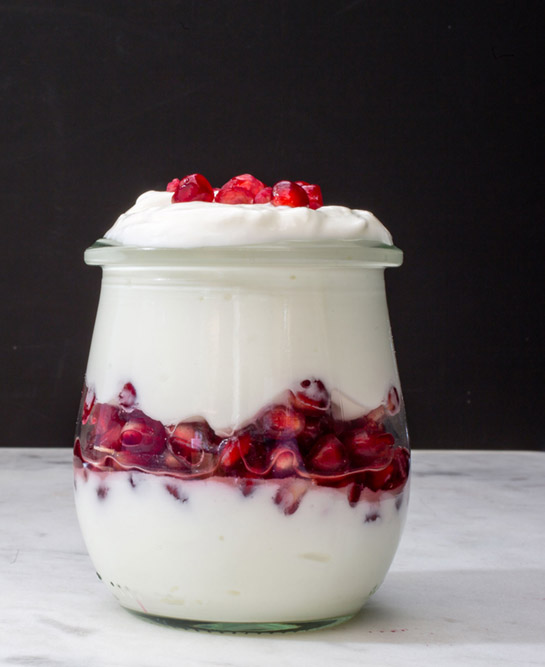 Vanilla Pomegranate Parfait
These sweet yet healthy parfaits balance rich vanilla pudding with tart pomegranate compote. Enjoy as a weeknight treat or weekend indulgence.
Makes 6 Servings
Ingredients
For Compote:
2

tablespoons

sugar

2

tablespoons

cornstarch

1

cup

pomegranate seeds

⅔

cup

Red Crown Pomegranate Juice (Original or With Pulp)

1

tablespoon

lemon juice
For Pudding:
1

cup

low fat milk

¾

cup

half and half

2

teaspoons

vanilla extract

1

large egg

1

large egg yolk

⅓

cup

sugar

1 ½

cup

cornstarch

1

tablespoon

butter

pomegranate seeds to garnish

mint sprigs to garnish
Instructions
To make the compote, mix sugar and cornstarch in a small saucepan. Add pomegranate seeds, pomegranate juice and lemon juice. Stir to combine.

Bring to a boil over medium high heat. Cook, stirring, until the compote has thickened, about 5 minutes.

Transfer to a small bowl and refrigerate.

To make the pudding, combine milk and half and half in a medium heavy bottomed saucepan. Add vanilla extract and bring to a simmer over medium heat. Remove from heat, cover and let sit for 5 minutes.

Meanwhile, whisk egg, egg yolk, sugar and cornstarch in a medium bowl. Reheat the milk mixture over medium low heat. Add ⅓ of the milk mixture to the egg mixture, whisk to combine.

Pour the egg mixture into the milk pan. Cook over medium heat, whisking constantly, until thick, about 2 to 3 minutes.

Remove from heat and whisk in butter. Divide the compote and spoon the pudding mixture over the compote.

Cover and refrigerate until the pudding is well chilled and firm, at least 3 hours. To serve, garnish each parfait with pomegranate seeds and mint sprig.