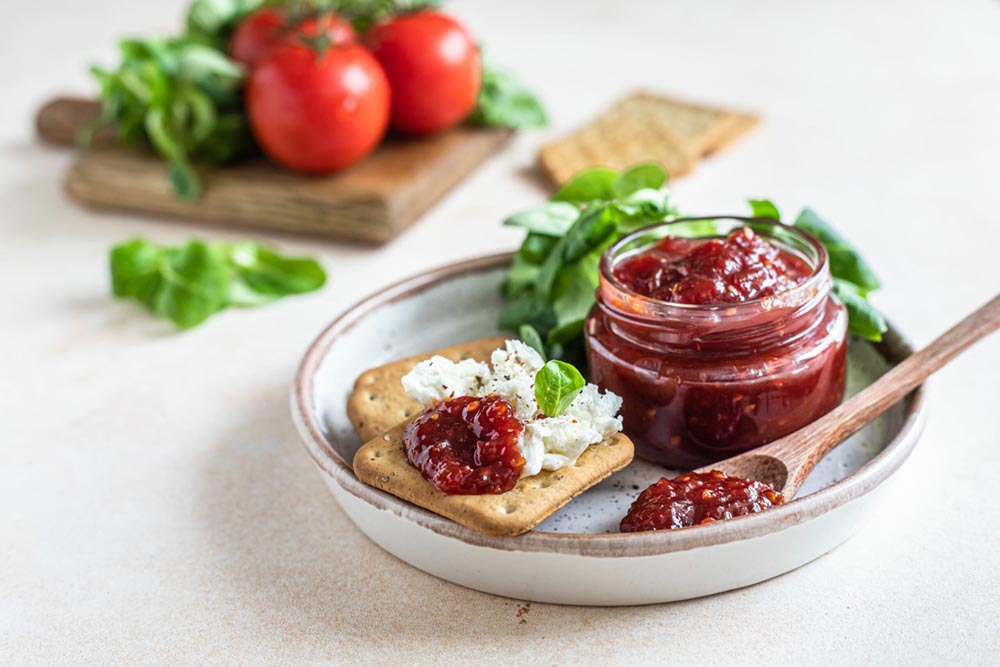 Pomegranate Pepper Jelly
Adding pomegranate juice to your pepper jelly adds a velvety sweetness that balances the kick from the peppers. Add this jelly to your cheese board or use it to top meat or fish dishes.
Makes 7 Servings
Ingredients
6

jalapeno peppers, halved lengthwise and seeded

1

medium sweet red pepper, halved lengthwise and seeded

1

habanero pepper, halved lengthwise and seeded

1¼

cups

white vinegar, divided

6

cups

sugar

¾

cups

Red Crown Pomegranate Juice (Original or With Pulp)

3

3-ounce packets

liquid fruit pectin
Instructions
Place peppers in food processor and pulse until combined.

Add 1 cup vinegar and pulse until peppers are finely minced. Transfer to large saucepan, stirring in sugar, pomegranate juice and remaining vinegar.

Bring to boil and reduce heat to medium, boiling for 10 minutes. Remove from heat and stir in pectin.

Return to boil, stirring constantly. Once boiling, remove from heat and skim off foam.

Ladle hot mixture into seven hot half-pint jars, leaving ¼-inch headspace. Remove air bubbles and adjust headspace, if necessary, by adding hot mixture. Wipe rims. Center lids on jars; screw on bands until fingertip-tight.

Place jars into canner with simmering water, ensuring they are completely covered with water. Boil for 10 minutes. Remove jars and cool.