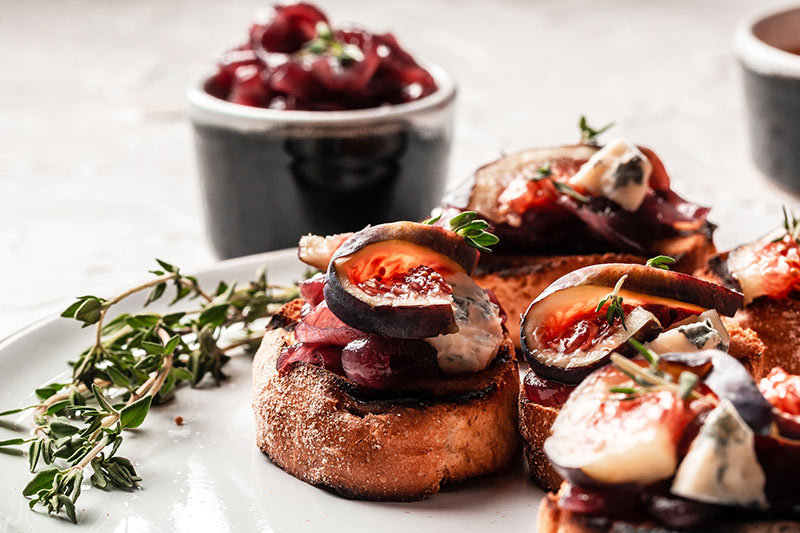 Pomegranate Caramelized Onions
Delicious as a topping for salads, burgers or lamb, caramelized onions are a treat for the senses. Not only do these pomegranate-infused caramelized onions taste great, they will make your whole house smell luscious while cooking.
Makes 4 Servings
Ingredients
2

large yellow onions, peeled

4

tablespoons

Red Crown Pomegranate Reduction*

2

tablespoons

butter or olive oil

salt to taste

water

fresh pomegranate arils for garnish
Instructions
Halve onions from root to tip and remove root. With root facing you, slice onion halves into ⅛" to ¼" thick slices. Repeat for both onions.

Season with pinch of salt and reduce heat to medium-low. Cook onions for 15 to 20 minutes, stirring every few minutes to prevent from sticking.

Check onions for doneness. If they are getting too brown or sticking a bit, reduce heat. Cook for another 15 to 20 minutes.

If there are any bare spots in the pan, add splash of water to keep onions from burning.

Reduce heat and add Red Crown Pomegranate Reduction. Season with salt and stir to combine, cooking on low for 2 to 5 minutes until combined.

Serve and garnish with fresh pomegranate arils.
Notes
Red Crown Pomegranate Reduction is available at select retailers. Check here to find one close to you.