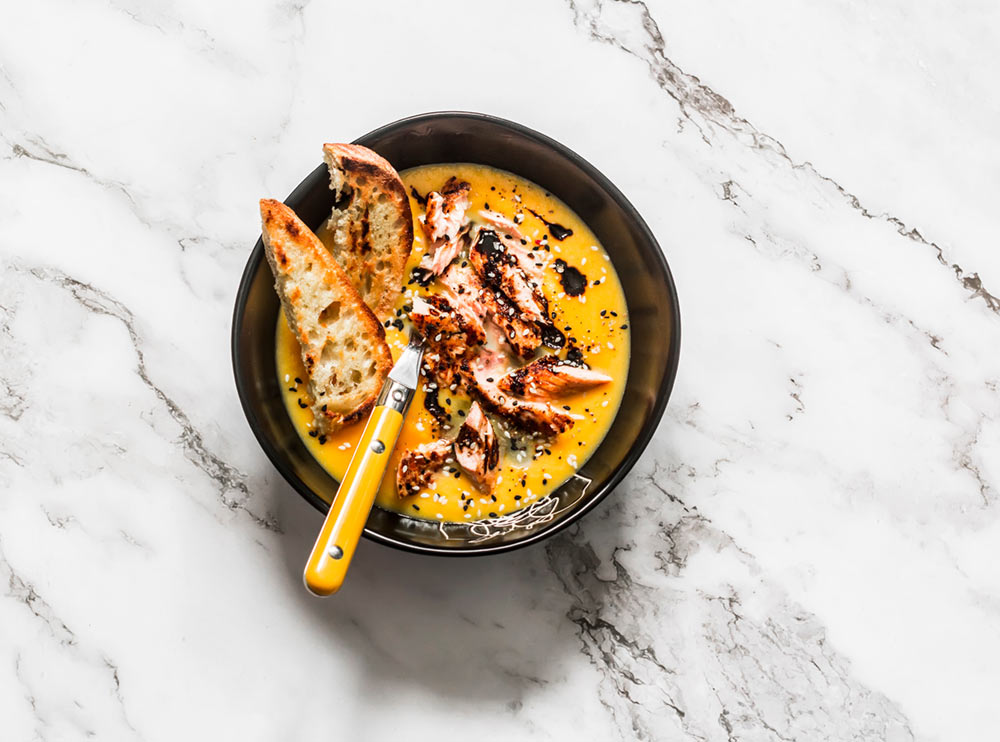 Butternut Squash Soup
Leeks, parsley, thyme add lovely flavour notes to a classic vegetarian butternut squash soup. But the garnish of pomegranate reduction and roasted pumpkin seeds is what will make this dish truly memorable.
Makes 6-8 Servings
Ingredients
1

butternut squash, about 4 lb.

1

medium leek

1

small yellow onion

1

medium shallot

3

medium cloves garlic

1

medium carrot

1

tbsp

honey or maple syrup

6

cups

very low-sodium vegetable stock

black pepper

⅛

tsp

kosher salt

extra virgin olive oil

3-4

sprigs parsley

2-3

sprigs thyme

10

whole black peppercorns

2

bay leaves

small bunch of chives

½

cup

Red Crown Pomegranate Reduction*

½

cup

pumpkin seeds
Instructions
For soup:
Cut the neck off of squash and set aside. Cut base in half through root and scoop out seeds.

Place 1-2 sage sprigs in each half, drizzle lightly in olive oil, and put on baking sheet lined with parchment paper. Roast until very tender, 45-60 minutes. Remove from oven to cool.

When squash is cool enough to handle, discard sage, and scoop out flesh. Set aside.

Peel neck of squash and cut into 1/2" pieces.

Cut the onion, shallot, and carrot into a 1/2" dice.

Smash garlic cloves and roughly chop.

Cut leek, keeping only very light-green and white parts. Cut in half vertically, then into half-moon slices about 1/2" wide. Soak leek pieces in a bowl of water for 5 minutes, then lift out and place in colander to drain.

Wrap parsley, thyme, bay leaves, and peppercorns in a bundle of cheesecloth and tie with a string.

Add 2-3 tablespoons of olive oil to Dutch oven or soup pot over medium heat. Add the leeks, shallot, carrot, garlic, and sweat for 5-8 minutes until translucent.

Add diced squash and cook 4-5 minutes. Add honey/maple syrup and cook for 2-3 minutes more.

Add stock and herb bundle, turn heat to high and bring to a boil, then reduce heat until water is just simmering. Simmer for 15 minutes until squash pieces are tender.

Add roasted squash to pot and simmer for another 30 minutes.

Remove herb bundle. Add 3-4 tablespoons olive oil, and blend soup in batches (or with a stick blender) until smooth. Season with kosher salt and black pepper to taste.
For garnish:
Put pomegranate reduction in small pot over very low heat until it has reduced to a semi-thick sauce. Make sure reduction never comes to a boil – it can burn very easily. This will take several hours.

Once it starts to thicken, stir regularly. Remove from heat when just thick enough to coat the back of a spoon.

Preheat oven to 350 °F. Place seeds in single layer on unlined baking sheet, and roast for 3-6 minutes until toasted. Remove from oven and allow to cool.

Ladle soup into serving bowls. Add swirl of pomegranate reduction, a few pinches of toasted pumpkin seeds, and sprinkle of finely chopped chives.
Notes
Red Crown Pomegranate Reduction is available at select retailers. Check here to find one close to you.